Sweetie Candy Vigilante Issue #6 METAL Cover F (Incentive Joe Simko Virgin Cover)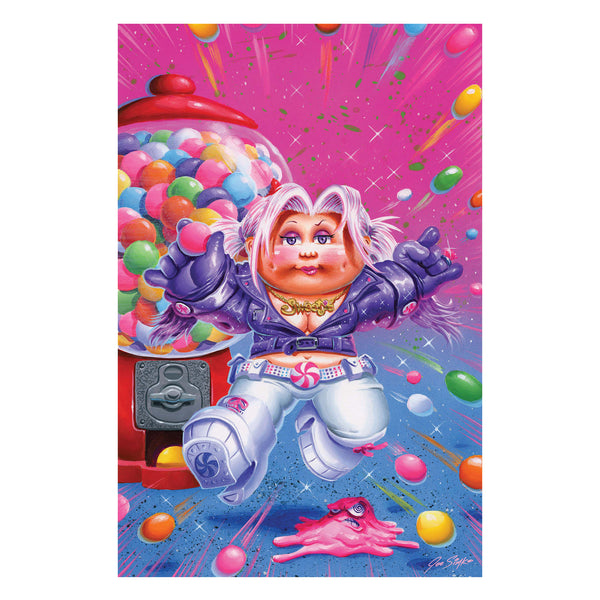 Sweetie Candy Vigilante Issue #6 METAL Cover F (Incentive Joe Simko Virgin Cover)
Sweetie Candy Vigilante #6 METAL Cover F (Incentive Joe Simko Virgin Cover)
Written by Suzanne Cafiero
Art by Jeff Zornow
Produced by John Cafiero
Published by Dynamite Comics
Release Date 6/21/2023 
"Cover Art by Topps Garbage Pail Kids maestro Joe Simko!"
This METAL AS F*CK Online Exclusive Edition of Sweetie Candy Vigilante #6 features an actual aluminum metal cover!  The visually stunning, brilliant metal cover provides another dimension to the artwork with vibrant colors and incredible details. Utilizing a long-lasting dye-infused printing process on .020 thick aluminum, it's the ultimate limited edition enhancement.  Limited to only 20 pcs worldwide, this super-sweet rare variant is an online exclusive unavailable anywhere else!
THE SWEETER THE CHERRY, THE JUICIER THE BOMBZ!  

HELLO DADDY, HELLO MOM… SWEETIE'S A GUMM BALLER — DROPPING CHERRY BOMBZ ON NYC!
Goodie gumdrops! It's the grand opening of the new Sweetie Candy Vigilante sweet shop, fully transformed, with obsessed customers lined-up to be the first to sample the 'sweet' new life and meet the CANDY VIGILANTE squad.  The adoring crowd, decked out in official Candy Vigilante merch, have come to check out the goods, and hang on to Sweetie's every word. She is the OG Gumm Baller! 
Candy Wolf and Pixie serve-up selfies and autographs for candy-crazed fans; their verified presence on social media has made them instant rock stars.  At 1.5 million followers and rapidly growing, Gummee Bear's online marketing skills bring it like bees to honey—reaching a sweet new global audience with limited edition confectionary drops. Meanwhile, Tinsel has decked the halls of the NYC flagship location to max potential—and it's time to get LIT!
NYPD forensics conclude the mysterious goo found on the wounds of the headless hoodlum have chemistry consistent with some seriously KILLER cherry juice, and when the homicide division pays a routine visit to the decedent's last known business address, they find the newly opened sweet shop in its place. 
Taken aback by Sweetie's enchanting presence and unusual, yet charming demeanor, the cops are dealt a cold case of brain freeze, and the start of a major showdown soon follows. This issue goes off like Cherry Bombz … fizzy bang boom!!  
Life is SWEET… don't be salty—get issue #6 of Sweetie Candy Vigilante!    
All comics are First Print editions, and ship bagged and boarded.